Sears taps into a trending market
Halloween is approaching, and a friend sent me a link to Sears. But this wasn't any link, it was a special link that showed a transformation on the Sears website. Everything had been zombie-fied. From the "Blue Zombie Crew" to the "Undead Twitter Feed," it was a visual stimulus for anyone who thinks zombies are cooler than vampires.
They did an excellent job of keeping it fun and functional at the same time. Their advertisement for clothes washers read "brain stains be gone." They even have a "dislike" button next to an ad for a chainsaw. A lot of thought went into this transformation, and I'm sure the Sears web and ad department didn't put it together overnight.
What this means for your wedding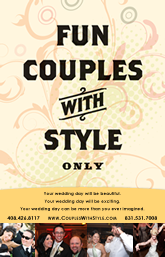 I recently introduced my own new marketing initiative – Fun Couples With Style Only. Since going solo at the end of 2008, my focus has been on what makes the event fun, different, and unique. There is a lot of thought and effort that goes into the excitement of the special events I work. Whether planning out an entertainment itinerary, remixing a first dance, or narrating a unique love story of how the bride and groom met — or all of the above — the end result is usually a party in a style that guests have never experienced before.
This year I had the ability to work with three couples referred to me by a bride I worked with over two years ago, and I've still got one more coming next year (have to love the Santa Clara County Sheriff Deputies!). While most of these events happened relatively close to each other in their dates, they all managed to be very different events. Each had their own style of introductions, personal touches, and even genres of dance music. Yet, at the end of the day they all were a huge success in their own special way.
This is what my goal is for your wedding too. Come to the table with what you want. Whether it's hip and current (like zombies), retro and funky, a throwback to the roaring twenties…it doesn't matter as long as it fits your style. I've had several sports themed weddings in recent years, notably San Francisco Giants and San Jose Sharks. Even though I only supply the music and maybe the lighting, we can still discuss special touches like the toss bouquet or garter removal, funny toast/speech options, or maybe an appearance by SJ Sharkie. Some couples choose to wear Chuck Taylor All-Stars.
We will explore your style, your idea of fun, and your desires. I'll help you make them a reality.  There are no "five hour wedding" packages here. Time and effort go into creating an unforgettable wedding day. Contact me today to schedule your free consultation and see if I'm the entertainment choice for your style.