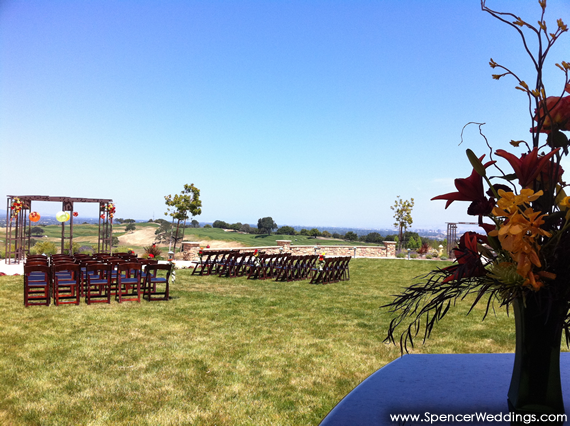 This past weekend I was a vendor in the Bay Area Wedding Showcase that took place at The Golf Club at Boulder Ridge. I was here last year in the smaller clubhouse, but in the middle of 2010 they opened up their Pavilion. Very few venues in the south bay can offer you the view available from this hill. You can see the Almaden Valley, Downtown San Jose, and lots more in between.
A few quick notes about the facility. First, it has the ability to seat up to 300 guests indoor or outdoor, but you'll drop to 240 inside if you have a dance floor.  The inside of the pavilion is practically built for lighting design, so go crazy with uplighting and gobo patterns.  Your catering choice is limited to Boulder Ridge or exclusively by Le Papillon (which isn't that bad, now is it?). You can find more on their website or by contacting Lisa Nunes at (408) 323-9900.
The dance floor is 15 feet by 15 feet, and usually in the center of the room – that's a good thing, and you'll want your DJ/entertainment to be in the middle part of the room as well. I'm not entirely sure why, but sound can get eaten up by the ceiling and walls here – having your DJ's speakers in the center of the room will keep him (or her) from having to crank it next to a guest table to carry sound to the other end of the room.
Also remember that the Pavilion is only about a year old.  The plants and trees will take some time to mature, but there is no doubt that the grounds will look better with time.
The Golf Club at Boulder Ridge
1000 Old Quarry Rd.
San Jose, CA 95123
(408) 323-9900
Contact: Lisa Nunes, lisan@boulderridgegolfclub.com