Believe me – This will NOT stay in Vegas
Last week was a very interesting one. A year, I attended the Wedding MBA convention in Las Vegas.  I enjoyed the show so much, I took advantage of an incredible special they were running if you registered during the show. As time passed, I wasn't sure that I would go. To be honest, it didn't seem like much of the content was refreshed (or unique) enough to warrant the trip.
Then about five months ago, the American Disc Jockey Association announced they would have their annual education conference the same week, prior to and slightly overlapping the Wedding MBA. It happened to also be around a time when Southwest had anniversary pricing on their flights from San Jose and San Francisco to Las Vegas – the pot thickens!
So now my bags are packed, and I've headed out the door. The amazing content I gained from the ADJA show was somewhat unexpected. I've seen many of the presenters previously, but nearly all of them delivered new content, something I welcomed warmly into my tiny brain.
Wedding MBA… Meet Sam Day!
Wedding MBA, however, had an influx of last minute attendees, putting them close to the 2000 attendee mark. It was here that I met Sam Day, Wedding Painter, for the first time.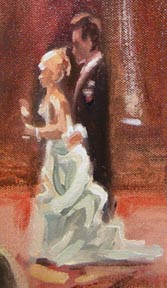 As The Wedding Marketing Blog points out, Sam is not unique – but rather rare. "While Sam is not the only wedding painter on the planet, he is one of very few."
Sam's rare talent is listed right there on his website, where he describes it as "oil paintings, live, at weddings and events." I came to the sessions a little late, but early enough to see him still in action. He had begun painting the audience when I arrived, and within a few hours time had finished him masterpiece.
Like nearly all the other impressed wedding vendors, I hurried to the exhibit hall where I could meet Sam and chat it up with him. I learned that he has ties to the Bay Area, which might encourage him to paint your wedding here, for a price.
How much does it cost?
No. I didn't ask him what he charges.  Much the same way that I frown upon other vendors asking me what my price is, I didn't see it fair to pre-judge him (or my client's desires) based on a price. I will tell you that I saw them listed on him blog, so just go check that out. Better yet give him a call in his studio at (206) 382-7413.
What are you waiting for? I already told you that there's only one Sam, but there were nearly 2,000 wedding pros that saw his work live last week. His phone is probably ringing off the hook right now. If that's the case, contact me directly, I've got his email address too!