In their 25th year of raising money for a worthy cause, Neil and Pegi Young put together a great lineup of artists this past weekend at the Bridge School Benefit concert. Two sold out days at Shoreline Amphitheatre made for a great day of musical entertainment.
Saturday, which started at 5pm, had a few problems with the cancellation of Diana Krall (knee injury) and comedian Jimmy Fallon (missed flight), the latter of which was to be the Master of Ceremonies for the day. I wasn't able to make the first day because I was busy entertaining at a beautiful wedding at the slightly refurbished Cinnabar Hills Golf Club in south San Jose.
Undoubtedly, Sunday was the best bang for your buck, starting at 2pm and going until just past 11pm. My wife Staci and my good friend Ted accompanied me this year, as we made our tiny base camp on the lawn. All I can say is that the rules have really relaxed in the fifteen years since I worked for Shoreline Security. There was a time when you were lucky to get you blanket in the door. Now you seem to be allowed to bring just about anything that you can carry – from large picnic baskets stocked with tasty food and sealed non-alcoholic beverages, to larger-than-lowback lawn chairs and tarps (instead of beach blankets). I'm not sure if those items, or simply the capacity crowd of 22,500 (16,000 of which are on the lawn) made for some incredibly cramped quarters. I'll be better prepared next year!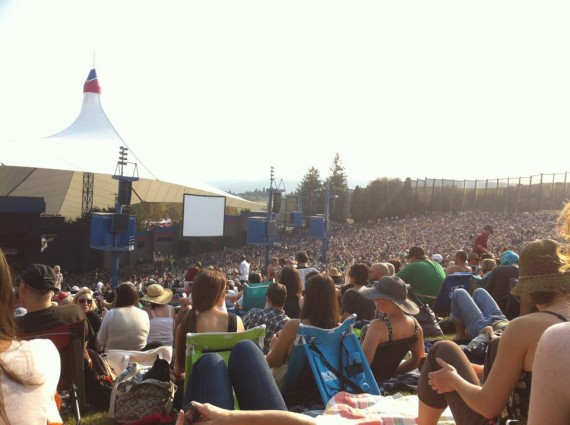 The Acts
It was a great lineup, with returning names like Eddie Vedder, Dave Matthews, Norah Jones, Santana and Beck. Newcomers this year included Mumford & Sons and Arcade Fire, and both put on an outstanding performance. It was unfortunate that many people left before Arcade Fire went on, but it did open up the lawn a bit for those of us sticking around.
Having never seen them in person, Foo Fighters was certainly one of the main reasons I attended on Sunday (the only day they played).  Given that the show is all acoustic, it was expected that a tremendous rendition of "Everlong" would be played, and it was. Tony Bennett and his full ensemble made an appearance – basically just schooling all the younger artists.
Norah Jones came with her country covers group, Little Willies. It was not exactly what I was expecting, but she covered a few Hank Williams songs, a pretty decent offering of "Jolene" originally by Dolly Parton, and ended with a Willie Nelson tune. All in all, if it were darker and what I had been expecting, I think it would have been great.
I missed Eddie Vedder as a result of taking the opportunity to hit the restrooms and grab a bite to eat. Seeing as I didn't like either of those, I'll have to find a way around it next time (Shoreline has lots of room for improvement). Thankfully, I found the full performance online, and have to admit – I really liked seeing an acoustic pounding of "Porch" from the Ten album.
Beck came on stage and showcased songs from his "Sea Change" album, which was performed with the original band that he recorded it with twenty years prior. He joked that it was a reunion tour of sorts. Near the end, they snuck in a last minute "Loser" performance, which for being acoustic came across very well.  I would have liked to see him later in the evening, but he had a lot of competition.
As a long time fan, my favorite overall performance came from Dave Matthews.  It was the first time I'd seen him and Tim Reynolds perform their acoustic sets that many fans on the east coast have been able to experience for many years. The downside is that he is still compressed to the 35-minute performance, so his typical jam sessions were not part of the experience. Joined by Marcus Mumford (of Mumford & Sons), they performed a brilliantly crafted cover of "All Along The Watchtower" – somewhat of a trademark Matthews song at live performances.
Canadian pop band Arcade Fire did their best to round out the guest performers, but was a little to melodic (or perhaps unknown) for the majority of the remaining attendees. That's not to say they didn't put on a great show – a full ensemble of fiddles, piano organs, and who knows what else was on stage with them – but it was almost a little too "folk" music for some. I think they summed it up when they said "everyone else had to figure out what hits to play, good thing we didn't have that problem."
October is usually one of my busiest months for wedding work, but I'm always ready to mark the calendar for Sunday's Bridge School performance. I'm sure I'll do the same in 2012, even if Eddie Vedder makes his 11th appearance. The only difference is that I might pay the price for reserved seating and pack a cooler.