Kyle and Roze – November 13, 2011
Last weekend's wedding was unlike any other that I've had the chance to attend. Roze and Kyle have a very unique Love Story. One such that the wedding itself was themed in a whimsical world of Hatter's Tea Party.
Top hats, gloves, vintage, semi-Victorian/Steampunk and formal attire are encouraged.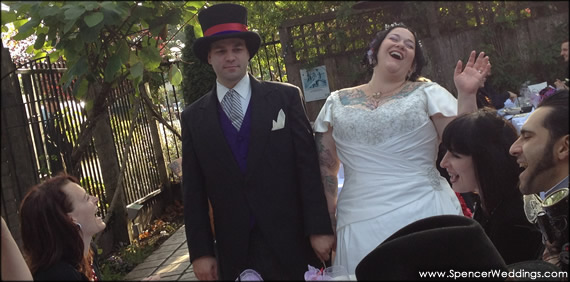 It was almost as it passing thought the black iron gates of Michael's on Main in Soquel transported you back in time. Everything was beautiful and inspired, from the invitations to the centerpiece arrangements. The cake proclaimed "Eat Me" while the favors enticed guests by saying "Drink Me."
But it was the attire that made this event. For a Goth loving group like this, it was on par. The top hats were abundant and the corsets were snuggly around the waist of many. The groom, Kyle, fit the part with his tails and top hat, while Roze's dress was unlike anything I'd ever seen. A pattern of red roses trailed down her backside, which only flowed naturally from the curls in her hair – done up beautifully I might add.
This might be a good spot to mention that Roze is a hairdresser (she does wedding too), and many elements of the day were done at the assistance of Amy Frugoli, wedding planner at Twitterpated Weddings. This was actually my first time not serving as the wedding DJ, but mostly a guest. I did act as Master of Ceremonies for the afternoon, which included personalized bios during the introductions, and we did tell the bride and groom's Love Story (which on that day, was referred to as "Memory Lane").
Kyle says he appreciates Roze's ability to know the difference between Keebler Elves, Christmas Elves and Middle Earth Elves.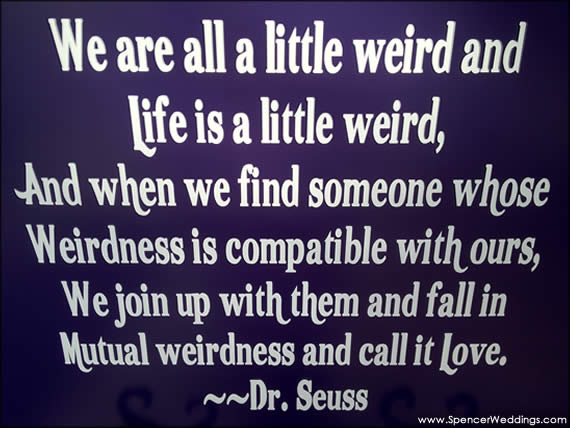 It's important to note that much of this afternoon was a DIY Wedding, something that several vendors frown upon. However, just as my own wedding was DIY, you can see where some elements might have cost more than hiring a professional. The trick to making it work within your budget is focusing your energies on what matter the most to you. This was a day about being with friends, and I don't think Kyle or Roze would have asked for anything different.
The details
• Wedding Party Introductions: "Cantina Band" from Star Wars Episode IV
• Bride and Groom Introduction: "Let's Dance" by David Bowie
• Bride and Groom First Dance: "Grow Old With You" by Adam Sandler
• Bouquet Toss: "Fat Bottomed Girls" by Queen
• Garter Toss: "Oh Yeah" by Yello
See more photographs on the Spencer Weddings and Entertainment Facebook page!