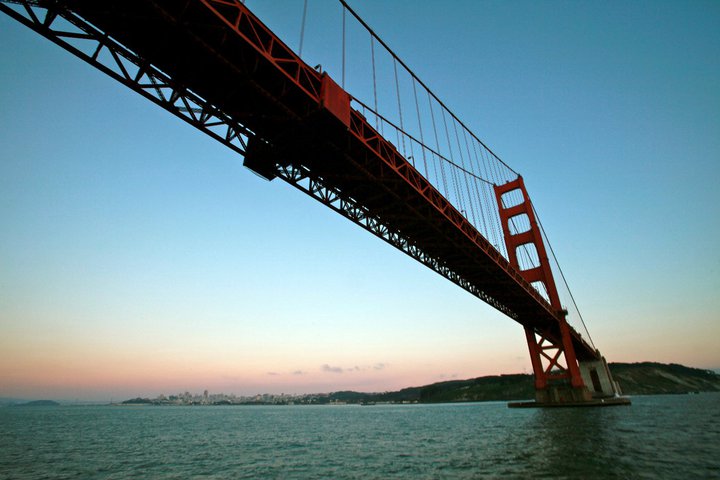 This past Tuesday evening was unlike most. Around four o'clock in the afternoon, myself and several other members of Silicon Valley NACE (National Association of Catering Executives) hopped on a Bauer's Worldwide Transportation Setra "bus" that for a ride from San Jose to San Francisco. Keep in mind, the seats were more plush than most first class flights, and the massive windows allowed for views riding up 280 like no other.
This was our annual gathering of both groups, though I'll admit it seemed a little odd since most of these people attend many other networking mixer events throughout the greater Bay Area already, but I certainly did meet a few new faces and connected with several I'd not seen in a long time (I'm looking at you, Geoff White Photographers).
I'll admit, I've not been on a boat in the bay since my senior prom fifteen years ago. Though it was a different boat then, we managed to make the same trek around the bay, ultimately crossing under the Golden Gate Bridge where you can take some amazing photos. Play your cards right, and you can even have the most unsuspecting engagement too. Just be forewarned, if you are not used to boats, the choppy waters of the bay can take you for a spin, too!
These unique NACE events, which happen the second Tuesday of each month in Silicon Valley, offer up variety of sponsors to showcase their talents to the attending members and guests. This time around was no exception, with no single vendor taking the spotlight. While it was hard to miss theHornblower Yachts and Cruises (our sea vessel and catering), we also enjoyed some great wine from Terlato Wine Group. Beautiful menus were done by the fabulous Creative Designs by Mimi. Lots of photographers were there, including my new friend that sat across from me at dinner, Vasna Wilson of Vas Photography. A new up and coming lighting company, Victory Events, helped set the mood as the sun set past the Golden Gate.
Another great highlight to the evening was DJ Kevin O'Scanlon from Sound In Motion DJs. I first met Kevin when he started working for Sound In Motion many moons ago (when I was working there too), and I have to say that he has come a long way from his college days at UCSC. Excellent "chill" lounge style throughout most of the evening that segued into some pop and dance tunes at the end of the evening. I can certainly say that when I am all booked up for a weekend, I'd have no doubt referring this guy out for a fun party.
To recap, the evening was a huge success. Even though these events are generally for networking, they have the ability to become a dinner party and a whole lot of fun. If you are ever looking for a different way to experience San Francisco, a Hornblower cruise around San Francisco Bay might just be the way to go!
Special thanks to David Ethridge of AVR Films for the pictures on this page.  My iPhone shots just don't do the evening justice.