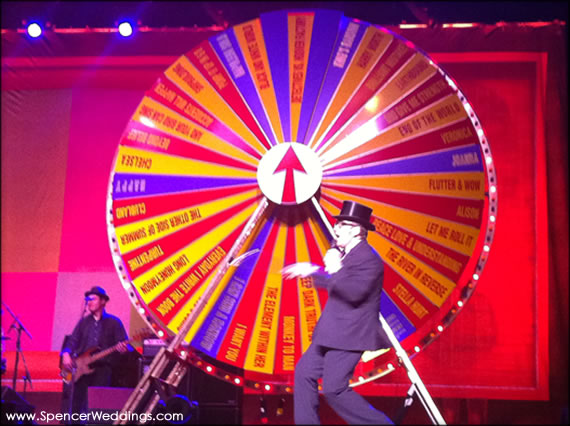 Fox Theater, Oakland – May 9, 2011
It has been 25 years since Elvis Costello brought out "The Spectacular Spinning Songbook" where the audience is invited to participate in a one-of-a-kind concert.  If you are lucky enough to live near (or travel to) one of the nine cities where Elvis Costello and The Imposters will play this month, you won't be sorry.
Audience members will be invited onstage where they may spin "The Wheel" and then be offered a chance to enter the "Hostage to Fortune Go-Go Cage", while their selection is performed.

Alternatively, they may choose to take a seat in the on-stage "Society Lounge", where light refreshments will be served, during what promises to be a splendid and surprising evening.

–taken from www.ElvisCostello.com
This was actually my first time seeing Costello live (in-person that is).  I'm perhaps what you might call a "casual fan" of sorts.  My wife certainly has a deeper understanding of the catalog than I do.  However, that didn't stop me from having a great time.  The music sounded amazing.  Sure, there were tracks I recognized, but there were many more that – despite not knowing the words – I still danced and tapped along to the beat.  It's hard not to, the music is just so damn good, it's practically infectious.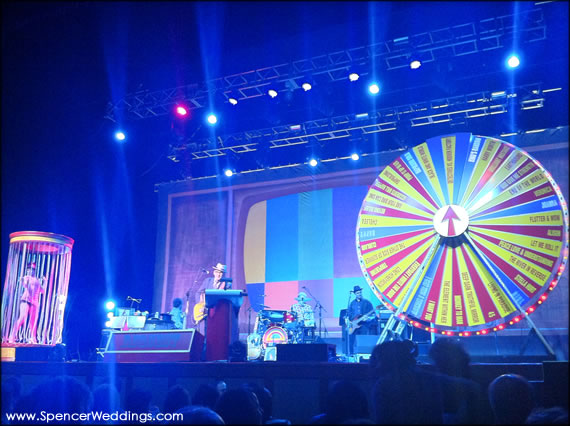 "I Can Sing A Rainbow" – Jackpot Spin
Spinning "The Wheel" makes for a custom playlist each show, and we were lucky enough to hit a special jackpot purple wedge on the second spin.  "I Can Sing A Rainbow" yielded us songs about color, including Green Shirt, Blue Chair, and Red Shoes.  Before Costello started the set, he asked the spinner what her favorite color was.  She responded with a color not in his library, so he borrowed a few lines of Purple Rain from Prince – well done, I might add.
If you have ever seen VH1 Storytellers, then you'll understand how pretty much of the remainder of show went.  Costello told many tales of how certain songs were written, stories about when they would be on tour, and just lots of great humor in between.  Each time someone got invited to the stage to spin "The Wheel" meant Costello would take on a new role as Master of Ceremonies, including a tiny costume change.
The entire set played that night of the tour (and other nights), as "borrowed" from the ElvisCostello.com website:
Overture
I Hope You're Happy Now
Heart of the City
Strict Time
Mystery Dance
The Spectacular Spinning Songbook
Shipbuilding  (SPIN #1)
"I Can Sing A Rainbow" Jackpot (SPIN #2)
Green Shirt
Blue Chair
Red Shoes/Purple Rain
The Other Side of Summer  (SPIN #3)
Chelsea  (SPIN #4)
This Wheel's On Fire/River In Reverse  (SPIN #5)
Monkey To Man  (SPIN #6)
Counting Darkness – IMPROMPTU
Harry Worth  (SPIN #7)
Alison/Wind Cried Mary/Somewhere Over the Rainbow/Somewhere  (SPIN #8)
* Interlude *
A Slow Drag With Josephine
Jimmie Standing In The Rain
Pump It Up – in 6/8 – Busted
The Spectacular Spinning Songbook
"Girl" Jackpot (FINAL SPIN)
Girl
This Years Girl
Doll Revolution
* Finale *
You Belong To Me
Next Time Around
Peace Love And Understanding
The Bottom Line
Go see this show! If you can find yourself a ticket, you won't be sorry! The sixth row made for a great up close and personal view, but I think that darn near any seat in the Fox Theater would have been great to enjoy the show. In some cases, it might have been better, as the podium and Society Lounge did block some views of the band.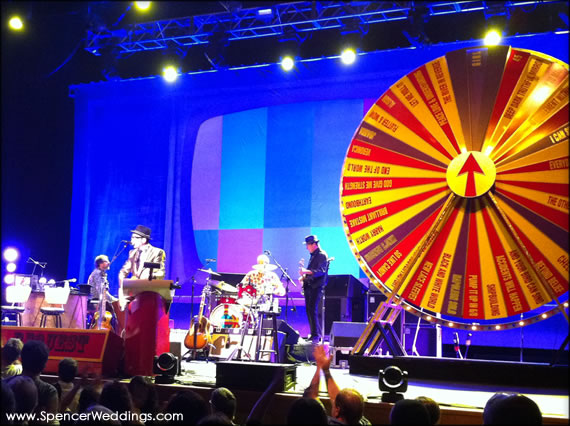 The Imposters are: Steve Nieve (keyboards); Pete Thomas (drums) and Davey Faragher (bass).