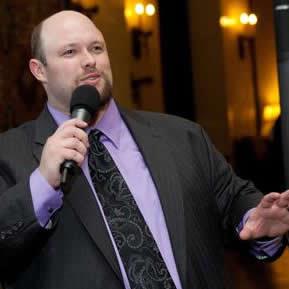 Something amazing happened this past weekend. As I was coming to the close of an amazing wedding reception at Saratoga Country Club, an older gentleman approached me. I thought he might be coming up to request a song, but instead he praised me on my performance as Master of Ceremonies during the course of the evening.
Now, it's not the first time I've heard this, but it was interesting because he didn't point too much to my DJ set. Rather, he emphasized my ability to interact and work with the energy of the guests in the room. Earlier in the evening I had introduced an 18 member wedding party, each with their own personal bio. After dinner, I had performed a narration of bride and groom's Love Story. Sprinkled throughout rest of the night were various other magic moments created as I interacted with their friends and family.
I mentioned to him how much I appreciated his words. And I sincerely did, as anyone that can identify with the role I play as a MC is very exciting.
That's when he responded, "No. I really mean it. I know this shit is hard work."
Whoa.
He proceeded to tell me about his brother, who is a founding member of Chicagoland cover band called the Chicago Catz. They've been around for nearly 30 decades, and they are perhaps the most sought after band in the region. When President Obama or other high profile names come to town, the Catz are the ones called in for entertainment. This guy's brother is the one that has my role. He's the MC (and a musician) for the band. Now I'm feeling even better about this praise I'm receiving. He's seen it. He does know that it's hard stuff.
After we talk a little more, he tells me that he also knows a thing or to about creating a dialogue with the audience. This is the guy that directed The Fugitive, a movie starring award winning actors Harrison Ford and Tommy Lee Jones. A movie that grossed more than $368 million worldwide and held the top spot at the box office for six week straight back in 1993.
Turns out, for the last few minutes, I've actually been talking to film producer and director, Andrew Davis.
Oh boy, now I'm really excited! Suddenly, this compliment felt as if I were actually nominated for an Academy Award for my stellar performance that evening. As if having this conversation and such genuine, unsolicited praise wasn't grand enough, Davis asks for one of my business cards just before heading out for the evening (which was only 15 minutes before we were scheduled to end the night anyway).
I suppose I should now go prepare my acceptance speech…. But first, tell me about your weekend. 🙂