Growing up in the northern suburbs of Atlanta (Marietta to be exact), my older brother and I would often dig deep into our imaginations to entertain ourselves. One such way was with LEGO. Being six years older than me, I can honestly say that I think they have been around me my entire life. If for no other reason than their inherent calling for creativity, I love them. I honestly wish I had more around my house, though my feet would probably beg to differ.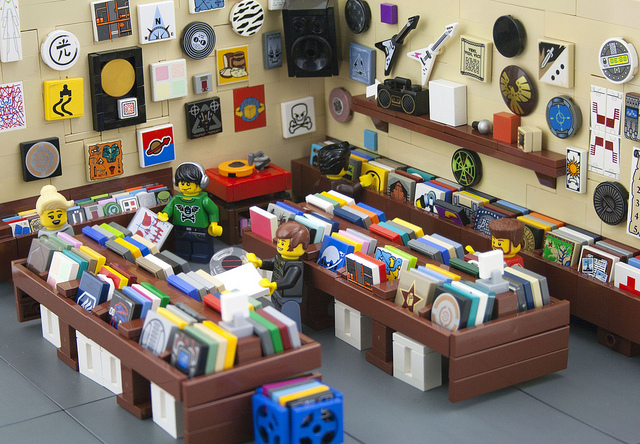 That's why when I came across this record store made entirely out of LEGO bricks (by FLICKR user eldeem), I had a moment. One where I remember just how much fun one can have being a kid. While not nearly as cool as this scene (hey, it was the 80's back then), my brother and I would envision ourselves as hip owners of a coin-op arcade. We had a tabletop pool table that we used as a the "event space" and would build miniature arcade machines with our bricks.
However, the thing that stands out for me in this record store scene was the one other thing we did inside our miniature arcade. We always had music. Often times we'd build a little DJ booth inside. Other times we would create a stage and set up a band, complete with drum kit, guitarists, keyboardist, and an over-the-top lead singer (think Steven Tyler of Aerosmith).
This was all well before I personally started playing bass guitar (that came in high school), and nearly a decade before I would even entertain the idea of becoming a DJ. Today, I entertain for couples plus their friends and families as much more than just a DJ. I get to do it nearly every weekend.
For some reason I think that there was an "entertainer" seed planted a long time ago, as a little boy growing up. It's important to remember where you come from, and to always remember how you got to where you are today.